2020 Year-end Report
A Note of Gratitude: Patuloy sa Misyon, Patuloy sa Paglilingkod
(Carrying on with the Mission and Service)
Many looked forward to 2020 as the year of "perfect vision". Indeed, the year has set our eyes on the "essentials" that we should be truly grateful for, even though it was punctuated by the pandemic.  In TSPI, we are grateful for: (i) how the organization has demonstrated its resiliency to face the challenges through enhanced resource management and operational efficiency initiatives, (ii) the business continuity program that allowed the organization to keep the employees engaged and to support them, (iii) the challenges turned into opportunities that reinforced positive changes, such as streamlined processes and realigned programs according to the needs of clients, and (iv) the accelerated digitalization program including the  aggressive use of social media platforms.
Year 2020 started with promising results in terms of loan releases and collections. However, due to lockdowns in the NCR and nearby provinces, especially during the first and second quarter, TSPI has practically operated for just eight months. TSPI generated revenues amounting to Php 383.96 million from continued offering of major livelihood programs, although it declined by 44% as a result of lower borrowings from clients.  Moreover, expenses were rationalized while coping with the situation, which resulted to 19% reduction in operational and administrative costs, i.e. from Php 637 million to Php 517 million. The year ended with a deficit of Php 139.88 million. Remediation on loan accounts have to be implemented and expected credit losses of Php 111 million have to be recognized. Thankfully, about 91% of the clients (157,725) were reached out and they continued to benefit from TSPI's programs and services.
TSPI's total assets as of December 31, 2020 amounted to Php 1.39 billion, composed of Php 1.13 billion total current assets and Php 261.27 million noncurrent assets.  Its current assets primarily consisted of 73% net loan receivables (Php 827.92 million).  Its total gross outstanding loan portfolio stood at Php 1.17 billion. Portfolio at Risk (PAR) is up at 40% (Php 470.60 million) from 20% in 2019, as a result of the pandemic's impact on clients' business and livelihood. The PAR portfolio allocated to TSPI's exposure to agricultural loans are secured by the Agricultural Guarantee Fund Pool (AGFP).  The past due and impaired accounts are 75% provisioned.  Overall, we are grateful that most of the organization's financial assets are classified as high grade and that   it remained afloat with liquidity ratio of 1.3X and solvency ratio of 1.6X.

Anchored on Transformation Framework
The Senior Management and the Board of Trustees (BOT) rallied its employees to work together in the spirit of "Sambayanihan" – working together to serve others for the glory of God. The attitude of gratitude drove everyone to continue to serve as part of one body and to remain focused on the mission.  Gratefully, TSPI's transformation framework served as the organization's solid foundation and anchor throughout an unsteady year. With its foundation built on God-centeredness, TSPI took a stance of appreciating and building on what was on hand, while coping and carrying out its business continuity strategies.  With eyes fixed on its role in the transformation process of God-fearing and socially responsible micro-entrepreneurs and farmers, the culture of collective responsibility propelled the organization to keep its commitment to serve the clients and protect its workforce.
The four key elements in TSPI's transformation framework served as the guideposts for the initiatives taken by the organization internally and in partnership with other community-oriented institutions:
Economic Sufficiency
Although the lockdowns suspended the operations of most livelihoods and businesses, TSPI focused on supporting those that thrive in the communities such as the sari-sari stores, online selling of essential products and food-related business.  Credit policies and processes were also aligned to better fit the financial capacity and loan requirement of the clients to help them recover and start new livelihood. These were the Sikap Loan, enhanced Agri-loan, Credit Line Facility and Express Loan. Microinsurance services were also kept intact and accessible, as well as the savings program as part of the loan package.  At the back end, digitalization project was fast-tracked with the aim to serve clients more efficiently and effectively.
Member Client Competency
With limited face-to-face interaction, online platforms were tapped to offer and train clients on timely livelihood opportunities. Series of webinars on direct selling and managing sari-sari stores were conducted.  Urban vegetable gardening also started specifically in Metro Manila branches to promote household food security and potential livelihood opportunity. Social media platforms were also maximized as venue for health awareness campaign and sharing of messages that build competence and bring hope among clients. This includes regular sharing of the Word of God and client success stories amidst the pandemic.  
Financial Probity
A Special Loan Payment Option was offered to clients who were financially struggling so that they may  continue to benefit from TSPI programs. This helped clients maintain a good credit record and discipline, it being a major element in TSPI's livelihood programs. In compliance with the Bayanihan Act 1 (March 2020) and Bayanihan Act 2 (July 2020), TSPI prudently implemented a debt relief program providing qualified clients with four (4) payment options.  The organization also resorted to innovative ways to reach out to clients through Telemarketing, TeleCollection and enhanced Customer Care Services.  Field staff were equipped to be able to coach clients on the proper use of their savings and the value of healthcare and life insurance. 
Relational Maturity
It is a common realization that the pandemic brought people to deeper consciousness on the value of family, community and most importantly, of faith and hope in God. TSPI has always been intentional in conveying and conducting activities that will help clients build a growing relationship with God and to demonstrate it through love and service in their family and community. Discipleship programs continued and leveled-up through the use of social media platforms.  Bible verses and prayers are regularly shared through the facebook page and chat groups with clients. Online weekly morning devotion and discipleship webinars resulted to a faster and better outreach, which focuses on having a deeper relationship with God and love for others.
TSPI Transformation Framework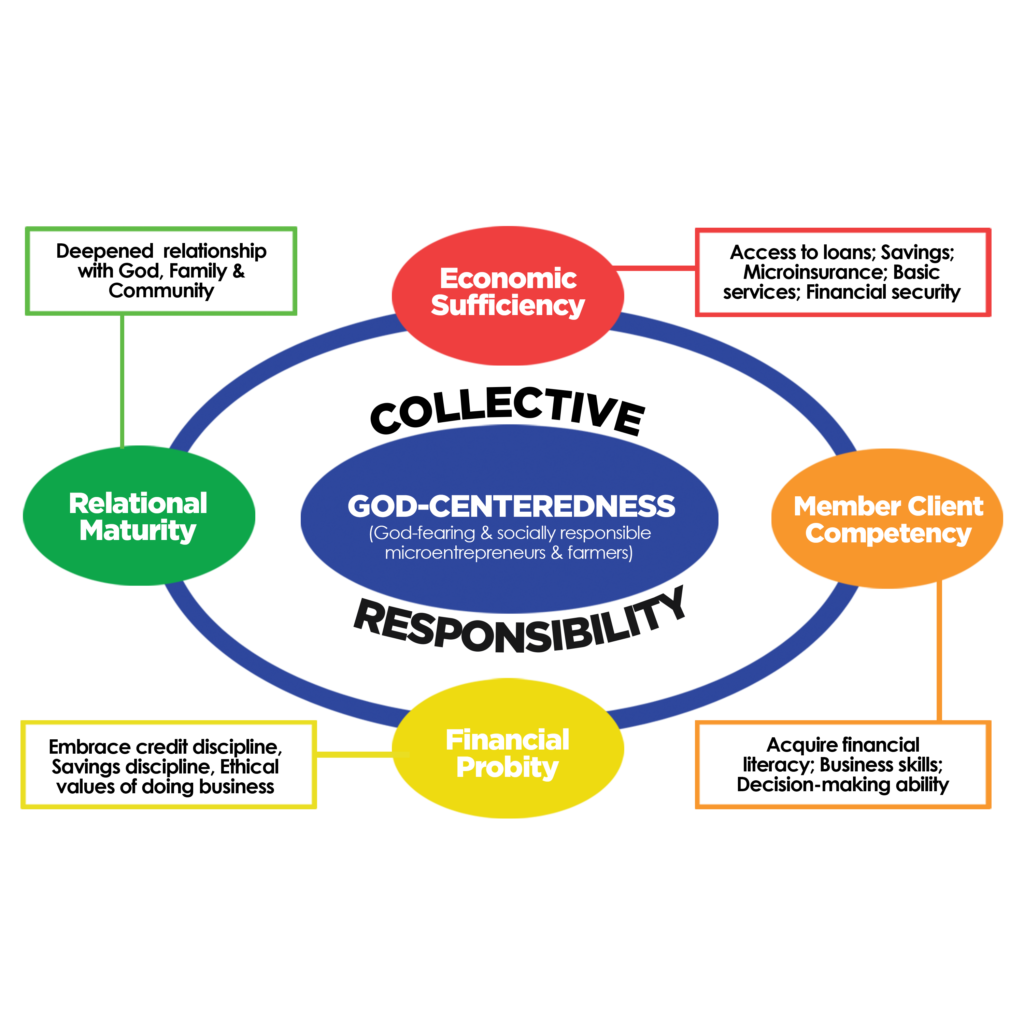 TSPI was astute in responding to the needs of the employees at the onset of the pandemic. It was a major component of the Business Continuity Program, which allowed the organization to continue to reach out to its clients.  Health and safety of the employees were given first and foremost importance by ensuring that all the branches are compliant to the health and safety protocols.  A Safety Officer was dedicated for each branch and all employees were trained and certified on the proper execution of health and safety protocols. Financial support was extended to employees through advanced pay-outs of salaries (March 2020 and April 2020) and 13th month pay (April 2020). Emergency loan was also offered with 0% interest up to 24 months payment term. Work from home arrangements with telecommuting agreements were allowed, as needed. More importantly, discipleship programs continued to be implemented. The Senior Management monitored the health and working condition of the employees on a daily basis.
The new normal set forth new opportunities and means to serve the less privileged, yet, the mission remains the same – to provide individuals families and communities with opportunities to experience fullness of life in Christ through Christian microenterprise development.
Unchanging Mission, Under the New Normal  
The target sector for microfinance and microenterprise development has expanded with local and global economy weighed down by the pandemic.  On top of the microentrepreneurs and marginalized farmers as the main sectors served by the Microfinance Industry, oversees Filipino worker (OFW) returnees and formerly employed individuals also need livelihood support. In 2020, government statistics recorded about 800,000 OFW returnees and 75% reduction in deployment.  Furthermore, unemployment rate reached a record-high of 10.3% in 2020, which doubled from 5.1% in 2019.  In response, TSPI will pursue to establish  Sambayanihan Centers in the communities to bring the mission closer to the communities through: (a) immersed interactive transformation programs for deeper relationship with center leaders and clients; (b) wider community coverage for better outreach;  (c) engaged families as TSPI advocates for expanded access to programs & services; (d) area-based operation for lower branch overhead;  and (e) regular market presence of field sales personnel for increased market share & better customer service.
As TSPI embarks on its 40th year of service in 2021, we will carry on the mission and we will continue to serve at a new height, with a humble heart.  Remembering that in 2020, we learned even more to "rejoice always, pray continually and give thanks in all circumstances"* because we survived the pandemic. More importantly, because we were priviledged to continue serving and are humbled in seeing how God works in and through us. Patuloy sa Misyon, Patuloy sa Paglilingkod! To God, we give all the glory!
Rejoice always, pray without ceasing, give thanks in all circumstances; for this is the will of God in Christ Jesus for you.  1 Thessalonians 5:16–18