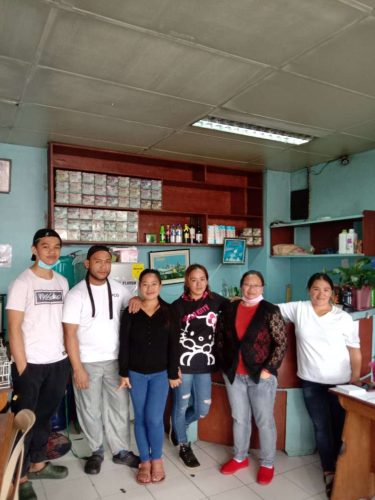 "Kahit mahirap,  life must go on. Tuloy pa rin ang laban sa awa ng Diyos." (Though hard, life must go on. We continue to fight, by God's mercy.) – Nanay Noveva
Nanay Noveva Sucalo's passion for cooking motivated her to start her own business in November 2015 at the age of 38. With her start-up capital of Php 50,000, she renovated a place in Balili, La Trinidad, Benguet and launched her eatery business. In 2017, she joined TSPI Kabuhayan Program (TKP) with an initial loan of Php 10,000. Being a consistent good client, she then graduated from TKP and moved to being a TSPI Maunlad Program (TMP) client with an initial loan of around Php 50,000.
Crisis came when she had to temporarily close her eatery during lockdown.  So Nanay Noveva resorted to online selling of packed foods to travellers and to farmers from La Trinidad who  sell their harvested vegetables in Baguio. Her business started to pick-up and her inventory was increasing. She was then inspired to extend help to others in various ways and in several opporunities. In one occasion, she helped the vegetable farmers who had a difficult time disposing their crops because of oversupply of vegetables. She helped them by buying a truck of their goods and  gave them away to passersby. She also posted it on her facebook account so people would know that she is giving away vegetables for free. She even personally delivered some of the goods to neaby households.
When asked why she was lavishly giving and extending her service, her reply was, "It is better to give. That way, my resources can benefit others." She does not expect anything in return for all her generosity. She leaves everything to the Lord.