KEEPING THE SAMBAYANIHAN SPIRIT ALIVE
RENE E. CRISTOBAL | President
The Bible speaks of "40" as a symbol of new life, growth, transformation and transition from completing a great task to gearing up for a greater task. In 2021, TSPI celebrated its 40th Anniversary, which marked the unchanging mission of bringing Good News to the less privileged and hope to the communities. We believe that God's faithfulness for the last 40 years allowed TSPI to build on its firm foundation that enabled it to rise and withstand all tests. As we prepare for greater tasks ahead and for reaching new milestones, we are confident that our plans and programs have evolved and aligned to the changes and challenges of time. Furthermore, our strategic alliances and innovative digitization programs usher us to see the brighter future where we can serve more as good stewards and faithful servants.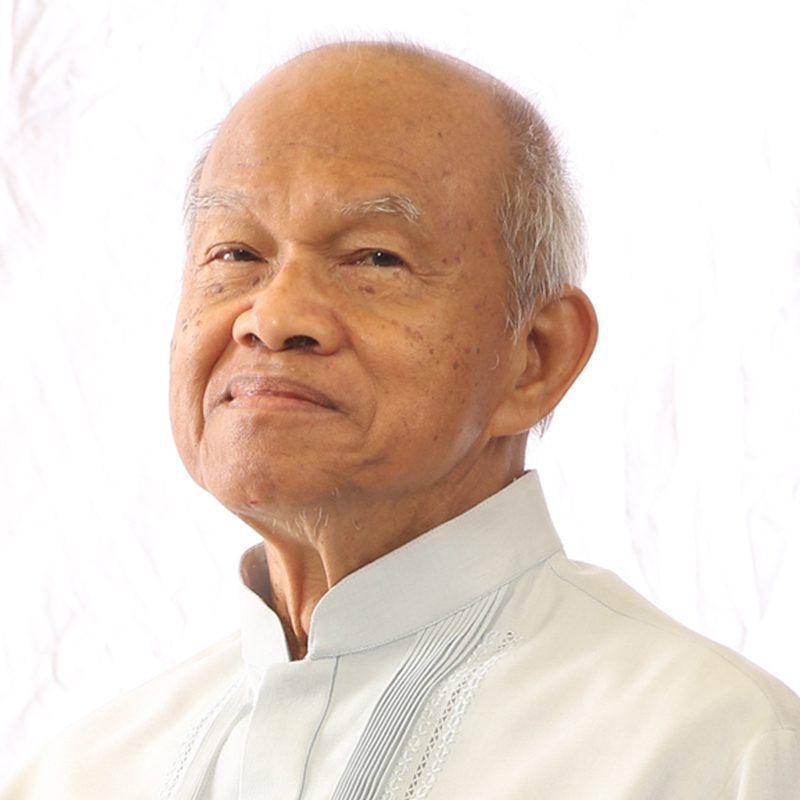 During our 40th year, we launched the TSPI Sambayanihan®, which aims to bring programs and services closer to the community and to deepen our relationship with our clients. Sambayanihan® started with providing benefits to our clients, especially those affected by the pandemic and calamities. Then it extends to the construction of Sambayanihan® Centers as a joint project of a TSPI branch and clients who voluntarily share their resources. Sambayanihan® Centers became a place where clients gather together for fellowship and for easier access to TSPI programs and social services. TSPI started with just one Sambayanihan® Center established in Bato, Camarines Sur from Nabua Branch in the first quarter of 2021 and reached its first 40 Sambayanihan® Centers across all seven TSPI sectors by the end of the year. Each Sambayanihan® Center is indeed a partnership story fostering volunteerism among our branch personnel and our client leaders. 
With COVID-19 lockdowns and restrictions, the Sambayanihan® Program is proven to be an appropriate response during crisis. Beyond that, it turned out to be a strategic approach for delivering excellent customer service, nurturing the spirit of selfless service and sharing among clients, building linkages and networks for sustainable livelihood and business growth, and continuing discipleship and capacity building programs. Sambayanihan® is aligned with the TSPI transformation framework focused on God-centeredness. It instills the TSPI culture of sama-samang responsibilidad among clients, employees and partners as well. 
TSPI Sambayanihan® has become a movement that is built on five sustainability pillars:
"Samba" (Worship): We will worship God in all we do. Every activity is for God's greater glory!

"Bayan" (Nation): We are called to God's Kingdom and to serve Him as His chosen nation.

"Bayani" (Hero): We will obey and serve God as His heroes. We stand firm and press on towards the goal.

"Bayanihan" (Community):  We will carry each other's burden out of love for God and for others. We unite as one for the glory of God.

"Anihan" (Harvest): We will harvest with songs of joy. We will not grow weary in doing good, for we know that in God's time, we will reap a bountiful harvest if we do not give up.
Gratefully, Sambayanihan® also extends among our valued institutional partners. Their untiring support and generosity are beyond what we could ask for.  TSPI is blessed with growing alliances composed of three network organizations, namely the Microfinance Council of the Philippines, Inc. (MCPI), Alliance of Philippine Partners in Enterprise Development, Inc. (APPEND) and Employers Confederation of the Philippines (ECOP); two regulatory agencies namely the Microfinance NGO Regulatory Council (MNRC) and Securities and Exchange Commission (SEC), six banking and financial institutions, nine non-government organizations, 11 government agencies and corporations, 15 private companies, local government units and 100 church ministry partners.  Through our strategic alliances, we are able to achieve more as an organization.
TSPI believes that its digitization programs which aim for higher operational efficiency, sustained quality customer service and timely support to our clients will reinforce and transition Sambayanihan® into a functional social ecosystem that is fueled by the power of God's Love.
In the next few years, as we prepare for the 50th year of TSPI, our goal is a "Sambayanihan®" movement that will build the "Golden Bridge" to link those who have more in life with all of God's people by sharing God's blessings. TSPI shall be the bridge to bring the Good News of Love, Stewardship and Excellent Service through Volunteerism and Shared Responsibility among our stakeholders. We know, many continue to wait patiently to experience God's Love. We dream of a TSPI Sambayanihan® Movement that brings Hope and God-centered progress to our clients, for them to become responsible members of TSPI and of the communities they belong to. We aspire for the TSPI Outreach to grow and for TSPI to continue to actively play its role in Nation Building.
We believe that we can reach this dream because as we reflect on TSPI's achievements over the last 40 years, most especially during the last two years of the pandemic crisis, we are strongly convinced of one thing. TSPI is sustained not by what we do for God nor our faithfulness to Him. TSPI is sustained by God's sufficient and amazing GRACE! 
As God promised, "I have made you and I will carry you; I will sustain you and I will rescue you." – Isaiah 46:4