2008 is a year that Nanay Annabel "Mayeth" Bonsol would rather forget.  Her husband, a barangay councilor, was fatally shot after a political altercation, and her childhood home in Bauan, Batangas was foreclosed by the bank.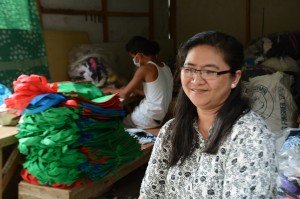 Up until then, she has had modest success in her ecobag and rug business, which she started in 1999 with a loan from TSPI and a rented sewing machine.  But the twin tragedies drained her resources, and the stress from the ordeal weakened her resolve to work.
Reeling, the mother of four thought that getting away from everything might do her good.  In 2009, she left for Qatar, where she found work sewing abayas (robe-like dress) and babysitting.
It was her first time to work as an employee.  The eldest of five in her family, Nanay Mayeth was already peddling fruits and vegetables around town at age 12 to help her family.  She had always been engaged in some form of business ever since.
"That's probably why I was often unhappy," she said.  "Every time I called my children from Qatar, they would tell me, 'You're always crying.  Why don't you just go home?'"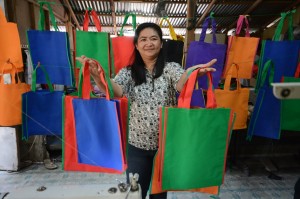 Even so, Nanay Mayeth said the two years away from home reinvigorated her will to live.  In 2013, she came back to try and forge a fresh start.  Once again, she sought the help of TSPI.  But instead of renting a sewing machine, she had a beautiful state-of-the-art five-thread sewing machine from Qatar.  Familiarity helped her business thrive anew.
Nanay Mayeth likes moving around and always carries sample products in her bag.  She had landed several big buyers this way, including big hardware stores and a shipping company.  TSPI also helps link up Nanay Mayeth to potential buyers, one of which was Splash Corporation.  She now supplies recycled corporate giveaways like aprons made out of tetra packs.
Still nothing beats old-fashioned hard work.  During particularly busy days, she would join her army of seamstresses just to meet orders, often making do with three hours of sleep a day.
Since restarting in 2012, her operation had expanded to 12 stay-in employees who cut, sew, and pack products, plus nine more who work in their homes.
Her children, three of whom are now working in Qatar as AutoCAD operators, have been asking her to retire from work.  Nanay Mayeth would always retort:  "Why now?  Now that you're all done with school and I have nothing else to do?"
Nanay Mayeth couldn't hide the joy in her eyes as she shared how her children had vowed to build a house for her, to replace the childhood home she lost eight years ago.  And that promise is making the hardworking grandmother of two filled with hope of a brighter life ahead for her family.