The serene waters of Tayabas Bay would sometimes peek in between the coconut trees dotting the horizon in Catanauan, Quezon.
A six-hour drive from Manila, the first-class municipality stands on gently rolling hills, so fertile that almost every household depends on the land for sustenance, from copra production to rice farming.
But for farmer Tatay Fortunato Mendoza, a TSPI Programang Pang-agrikultura (TPP) client since 2012, harnessing the richness of the soil is far from easy.  For one, his community's experience with vegetables had rarely been positive.  With land so abundant and many families routinely planning, the ample supply often depresses prices.
"We know how to plant," he said.  "The other things, like finding a market—that is the problem."
In 2008, the Jollibee Group Foundation launched its Farmer Entrepreneurship Program, geared towards helping small farmers like Tatay Fortunato.  By linking up big buyers like Jollibee, these farmers have a chance to increase their income dramatically.  Four years later, in 2012, the program reached Catanauan.
TSPI identified 100 farmers from Catanauan's four upland barangays and helped them form a group to supply young ginger, locally known as kutsay, to a big buyer.  The newly formed Catanauan Ginger Farmers Association was able to supply 41 tons of kutsay to a Japanese businessman.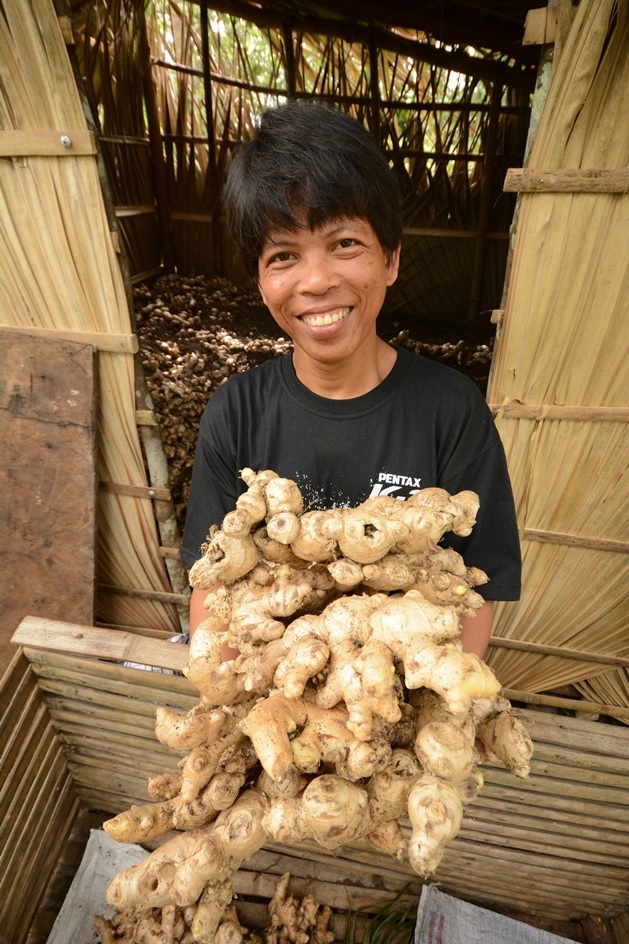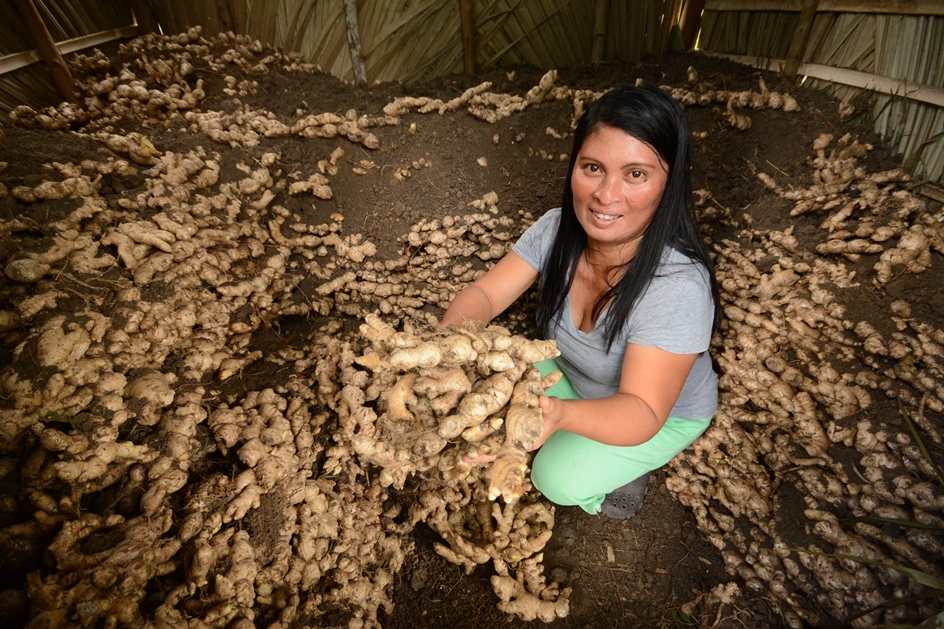 For the first cycle, Tatay Fortunato and other farmers received a loan of P31,000 per 1,000 square meters, which they invested on organic chicken manure, commercial fertilizer, seeds, and labor.  "When you're talking about volume, having a group is critical.  You can bargain and negotiate, especially about pricing.  Here in Catanauan, because of the association, it's actually the market that comes to us," Tatay Fortunato said.
The group's name was eventually changed to Catanauan Quezon Farmers Association (CQFA), to accommodate products beyond ginger.  As a duly registered group, it plans to find institutional buyers for other products, like corn, saluyot, and turmeric.  It also aims to create a sustainable source of vermi fertilizer.
While the prospect of CQFA seems bright, dealing with large orders and managing a group of farmers come with its own challenges, Tatay Fortunato said.  The group has so far been able to satisfy their commitments of kutsay to their Japanese client, but the attractive price of mature ginger in the market would sometimes entice some farmers not to sell, preferring to wait for higher returns.
This might change soon.  Since receiving accreditation from the Department of Labor and Employment, CQFA through TSPI has been in talks with several food manufacturers for a possible deal on mature ginger.  Another deal with their existing Japanese client, this time on saluyot, is also in the works.
In just over two years, some 400 farmers from the towns of Catanauan, Mulanay, and San Narciso have already benefited from TSPI's intervention in facilitating market access.  A unique setup called "Tatlo Dapat" groups TPP farmers into cell groups, with at least three members dedicated to functions beyond marketing.  The intention is to make the program holistic.
With 65 farmer members at present, the CQFA targets to explore more opportunities with other high-value crops, something that the group is optimistic about.  For the small farmers in Catanauan, organizing themselves into an association has opened up many opportunities that they would not otherwise have.